WorldShare License Manager release notes, July 2021
Last updated
Release Date: July 24, 2021
Introduction
This release of WorldShare License Manager adds support for the JUSP Aggregator platform. We are pleased to offer JUSP users the ability to download their JUSP provided COUNTER 5 reports through License Manager.
In addition, WorldShare License Manager is pleased to offer in-application instruction for COUNTER 4 and COUNTER 5 SUSHI vendor configurations.
License Manager continues to support the COUNTER 5 usage statistics standard through the availability of more report types. Reports offered this release include:
DR - Database Master Report
PR - Platform Master Report
Many of these enhancements are the direct result of your feedback.
New features and enhancements
JUSP Aggregator
License Manager now enables the SUSHI harvesting of COUNTER 5 reports through the JUSP aggregator platform. With this new feature, your JUSP enabled library can now leverage License Manager functionality in when harvesting COUNTER 5 usage statistics from JUSP. All PR, TR and DR standard and master reports are supported with JUSP aggregator harvesting.
1. Configuring the JUSP Aggregator
In order to begin harvesting SUSHI reports through JUSP you will start by navigating to and clicking on the My Aggregators tab inside License Manager.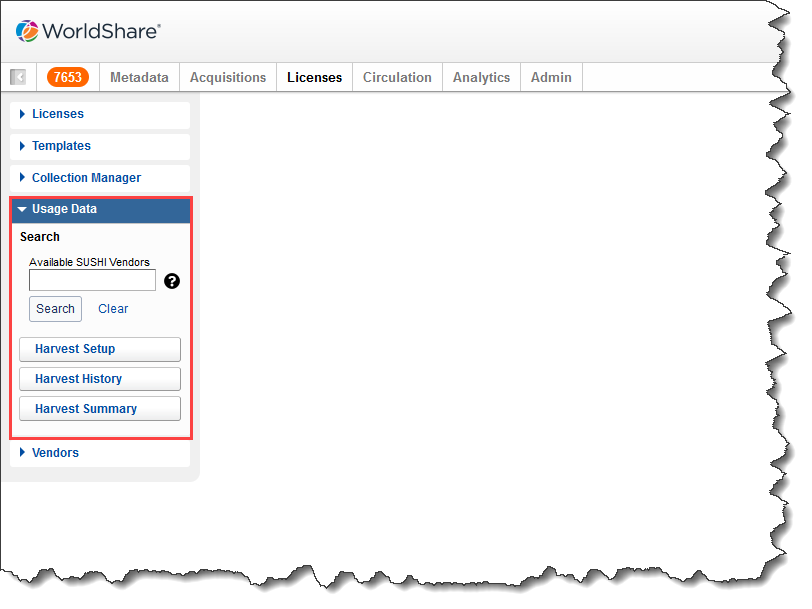 2. My Aggregators Tab
After expanding the Usage Data section, click the search button underneath the box titled Search Available SUSHI Vendors. Clicking the "Search" buton while either the search box is empty or if it contains a query will bring up a page with three tabs. The first tab is called "Available SUSH Vendors". The second tab is called "My Requested Vendors". Next to the tab labeled "My Requested Vendors", another tab will appear called "My Aggregators".
Click on the "My Aggregators" tab and you will be brought to the following screen.
3. Configure JUSP
On the "My Aggregators" tab you will see a button called "Configure" which is on the same line as JUSP. Clicking this button will take you to a new screen where you will enter your JUSP provided credentials to configure the connection.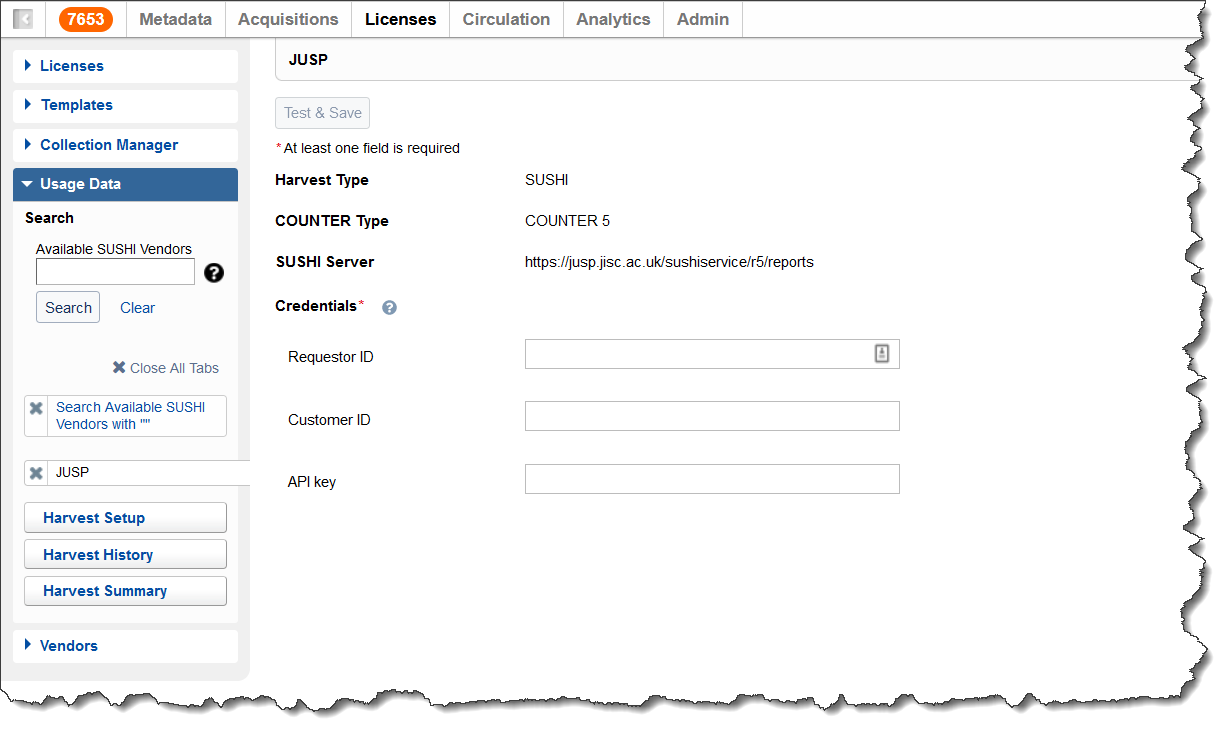 4. Credentials Accepted and Vendor Mapping In Process
If your library's credentials are entered in correctly you will see the below screen which indicates that they have been accepted and the mapping process is taking place. When configuring your JUSP aggregator configuration, License Manager maps the JUSP platforms to the vendors currently available in License Manager.
4. Vendor Mapping Completed
Once the mapping process is completed, you will be presented with a complete list of the mappings between JUSP and License Manager. The column titled "Platform Name" is the JUSP name of the platform and the "Available Vendor" is the name of the License Manager vendor and the name you will find your JUSP data under in the Harvest History. In addition, you can also see the Platform ID provided by JUSP as well as the supported reports for that vendor.
5. One-time SUSHI Harvest
After your credentials have been accepted and the mapping process is complete, you can now begin harvesting COUNTER reports from JUSP. With License Manager your library has two different options when it comes to harvesting reports, One-time Harvest or Recurring Harvest. More information about these two harvesting options can be found here.
To harvest from JUSP in the One-time Harvest tab, you will click Harvest Setup and then select "Aggregator" from the Report Source dropdown menu.
After selecting the report source "Aggregator", you will then select JUSP from the Aggregator Name dropdown. After selecting JUSP, you can choose to either harvest your COUNTER reports for all available JUSP vendors or only picking a subset of vendors to harvest reports for. This is selecting is done via the Vendor Name dropdown.
After selecting which vendors you want to harvest against, you will then choose the report types you want to harvest.
6. Recurring SUSHI Harvest
To setup a Recurring SUSHI Harvest you will follow the same steps as the recurring harvest. When enabling the Recurring Harvest it is important to note that JUSP reports will be harvested on the 28th day of each month.
7. Harvest History
Using the Harvest History function you can review your previous SUSHI harvests. SUSHI harvests that come from JUSP can be identified by the term "JUSP" located in the Source column of the Harvest History for the vendor you are viewing. Harvests that are conducted from the COUNTER 5 vendor are identified by the term "COUNTER 5 Vendor" in the Source column.
In-application SUSHI Vendor Configuration Instructions
License Manager now enables you to see which fields you need to configure SUSHI vendors inside the License Manager application. This new feature will enable you to quickly and easily configure your SUSHI vendors by providing information on which fields are required to configure the vendor successfully. This vendor configuration information can be seen in the highlighted portion of the screenshot below.
Additional COUNTER 5 Reports Available for Harvesting
With WorldShare License Manager, we continue to build on the adoption of COUNTER 5 across libraries. Statistics gathered from COUNTER-compliant vendors help to inform your decision making as you select and maintain your library's e-resources. With this release, we are happy to announce License Manager offers both automatic and manual harvesting of two additional COUNTER 5 report types. The following reports are now available for harvesting in addition to the TR, TR_J1, TR_J2, TR_J3, TR_J4, TR_B1, TR_B2, TR_B3, DR_D1, DR_D2, PR_P1, IR_M1:
DR - Database Master Report
PR - Platform Master Report
Since COUNTER 5 is being deployed by many vendors, you may find it useful to visit COUNTER.org for a full description of the changes. License Manager will continue to update the list of COUNTER 5 supported vendor connections to ensure that your library has access to your usage statistics.
Improvements and Bug fixes
To give more context to your library's license cost a column for currency type is now available in the license csv export.
A bug that was causing an error message to appear when you tried to view the results from a trial license survey has been fixed.
Known issues
There are no known issues to report currently.
Important links
Post release sessions
To help you become familiar with the new features, enhancements and improvements included in this release, there is one update sessions scheduled. Please note the session time zones when registering. The sessions will be recorded and archived for future viewing on the OCLC Community Center. Please register, even if you are unable to attend, to receive a link to the recorded session.
WorldShare Management Services release update session
Date: Monday, July 26, 2021
Time: 11:30am EST (UTC -4)
Registration: Register Here
Support websites
Support information for this product and related products can be found at: