Unfilled, cancel, conditionals
Last updated
Find information on assigning unfilled, cancel, and conditions in the Staff Portal.
Assigning and responding to conditionals
Supplying libraries are now able to assign conditions for filing a request to be sent to the requesting library.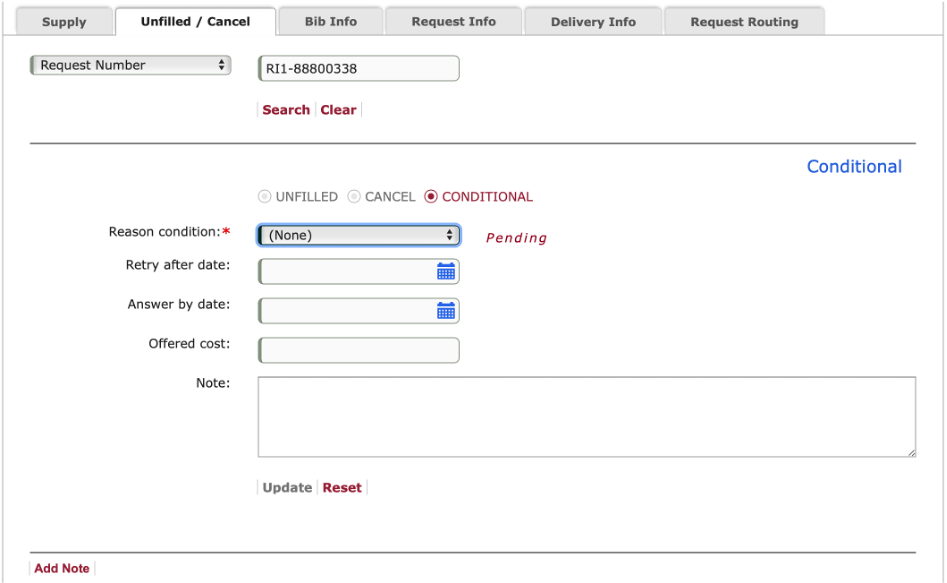 Supported conditional reasons include:
At bindery
Cost exceeded
The document may not be reproduced – loan possible
Item on loan
Not found as cited
On loan
Other conditions apply
Pre-payment required
Requested delivery date not possible
Requested delivery method not supported
Note:
Conditional messaging is supported when communicating via ISO18626 and ISO10160/10161
Staff-entered notes will be transmitted with the conditional reason selected (making "Other conditions apply" is a useful option if staff indicate what those conditions are)
Conditional messages sent by the supplying library will be displayed to the borrowing staff on that request.
If the supplying library indicates that the request should be requested at a later date, the 'Retry Request' option allows staff to retry sending the request back to the supplier.