About License Manager
Last updated
Overview
Use WorldShare License Manager to:
Manage electronic resource license agreements including start and end dates, signed/unsigned quality, current or expired status, and so forth

Add terms of use and make them available to other systems such as WorldShare Interlibrary loan or Tipasa

Integrate vendor information with WorldShare Acquisitions

Add knowledge base collections within WorldShare Collection Manager to:

Manage electronic holdings, at both the title and at the collection level

Integrate your holdings with WorldCat Discovery (WorldCat WorldShare Management Services libraries)
Watch a video
Introduction to WorldShare License Manager
Run time: 10:17
This Introduction to WorldShare® License Manager video reviews the benefits of managing licensed and electronic resources and streamlining ERM workflows, as well as the system interface.
License Manager in the WorldShare interface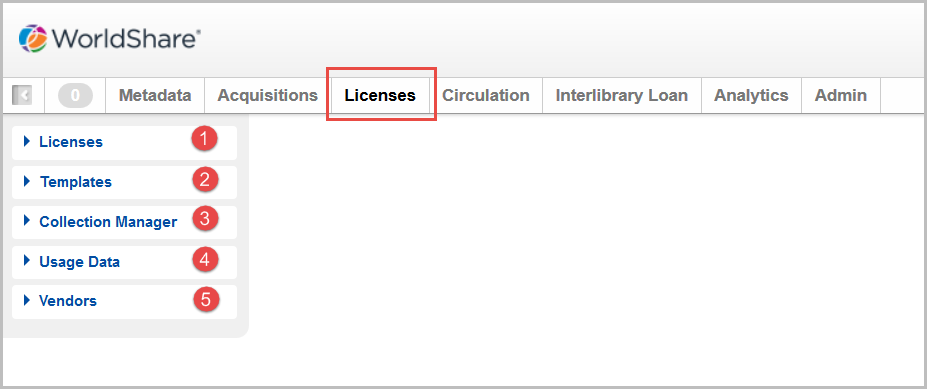 Licenses: Create, search for, and edit licenses. Clone licenses.
Templates: Create, search for, and edit templates for licenses. Publish templates.
Collection Manager: Create and edit e-resource collections via knowledge base collections. (Also available in: Metadata > Collection Manager).
Usage Data: Ingest COUNTER-compatible usage statistics for use by WorldShare Analytics.
Vendors: Create and edit vendor information (For use in and available in: Acquisitions).
Configure alerts in the Admin tab

Set up alerts to help you maintain your licenses and/or notify other library staff. See WorldShare Admin, Alerts Management.