Manage Copyright
Last updated
Find information about Copyright Titles, Copyright Fees Payable and Payment Batches for US copyright management in Tipasa.
The Manage Copyright feature allows your library to view the following: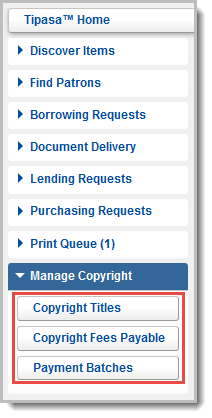 Copyright Titles
On the Copyright Titles screen, you can view the number of fair uses, planned payments, and other uses that you've recorded, as well as the total fees payable.
Use the Request Date drop-down list to view requests created in a specific year. The Show drop-down list provides filters that let you see just the titles marked with ">5 total uses", ">5 fair uses", or "planned payments".
Click the Export button to export titles in comma-separated values (.csv) format.
Click View in the Action column to see the details for the title and edit the copyright status and fee for any requests that haven't yet been paid.
Note: The Manage Copyright queues display only if Copyright functionality is enabled in Service Configuration.
Copyright Fees Payable
Copyright Fees Payable allows you to view a list of titles with outstanding copyright payments to determine the amount currently owed. A committed payment is a pledged payment for a copy that has been shipped by a supplying library.
To view copyright fees payable:
On the left navigation, click Manage Copyright.
Click Copyright Fees Payable.
A table list of titles for which you have committed to pay copyright fees appears.

This list allows you to view the Issue Date to confirm that items in the list have been published within the last five years.
You can indicate that royalty fees have been paid by clicking the Create Payment Batch button.
Payment Batches
Payment batches allow libraries to set aside committed payments ready for submission to a copyright payment agency. Payments added to Payment Batch are removed from the Committed Payments view.
To view payment batches:
On the left navigation, click Manage Copyright.
Click Payment Batches.
A table displays all of the payment batches created for your library.
Click the button in the Action column to export a .csv file containing the list of titles included in the batch. These files can be sent to your institution's third party copyright payment agency for royalty fee processing.