WorldCat Discovery release notes for My Account, July 2020
Last updated
Release Date: July 8, 2020
Introduction
This release of My Account provides a number of new features, enhancements, and bug fixes to provide your library users with an enhanced account experience, including:
Many of these enhancements and fixes are the direct result of your feedback.
Recommended actions
For this release, we recommend that you review the following checklists and complete the relevant tasks so that you can adjust your policies and workflows and train your staff. These checklists identify updates that we have determined as significant for most institutions. We encourage you to review all of the items in the release notes to determine whether there are other items that might require additional action or follow up by your institution.
Administrative actions
These items require immediate action or decisions.
Follow-up actions
In an effort to keep your staff informed of new features and changes, you may also want to consider these items.
Action
Share these release notes with your colleagues.
Have you signed up for email alerts for News in the Community Center? This ensures that WorldCat Discovery release notes and events come straight to your inbox.
New features and enhancements
Display cover art to help library users easily identify items in their lists
In the Checked Out, Requested, and Fees tabs, cover art now displays for items that include an OCLC number. Clicking the cover art takes the user to item details record in WorldCat Discovery.
When an OCLC number is not included with the item, then default cover art displays and no link to WorldCat Discovery is provided.
Provide improved display of user's profile information and communication options
The Profile page has been updated to provide library users with easier viewing and editing of notification settings. For institutions with WorldCat Discovery and Tipasa the email and text toggles now display with the email and phone entry boxes. The library-asserted information now appears on the right.
For WorldCat Discovery users that do not have Tipasa, the email and text options no longer display.
Bug fixes and known issues
Bug fixes in this release include:
Department and Status fields on the ILL request form now honor the first/blank line as the default.
For libraries with WorldShare Circulation: When the "display hold request date fields" setting is disabled in Service Configuration, the date fields no longer display in the Edit Request screen.
For libraries with WorldCat Discovery: "Import My Lists" has been added to the navigation menu and footer.
Use of the terms "My Account" and "Profile" are now more consistent.
Most issues related to translations, preferred browser language settings, and corresponding error pages have been resolved.
For a full list of current and recently fixed issues, see Known issues.
Include Request ID with problem reports
When reporting an issue with My Account or WorldCat Discovery, it's very helpful to include the Request ID. It can be found at the bottom of the screen on which the issue occurred. Including this information allows us to directly trace what happened on the request we are troubleshooting.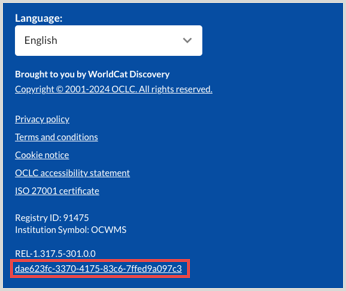 Support website(s)
Support information for this product and related products can be found at: