WorldCat Discovery release notes, June 2018
Last updated
Release Date: June 28, 2018
Introduction
The following release notes are for the June 28, 2018 release of WorldCat Discovery.
WorldCat Discovery June release highlights
Users can now share personal lists with a shareable permalink, view all advanced search options by default, and decide if feedback is needed when reporting broken links. Users can see institutional repository thumbnails right in the search results, find available materials from WMS groups in the language of their preference, and navigate the A to Z List with accessible keyboard options.
Institutions can intuitively configure their database selections and customize the beginning of an OPAC and/or Local Holding Record Link proxy.
Include Request ID with problem reports
When reporting an issue with WorldCat Discovery, it is extremely helpful to include the Request ID. The Request ID is found at the bottom of the screen on which the issue occurred. Including this information allows us to directly trace what happened on the request we are troubleshooting.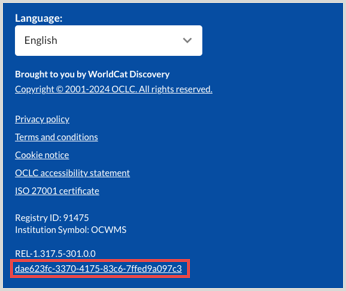 New features and enhancements
Publicly share personal lists
Librarians who would like to share curated lists with patrons can now share personal lists with a shareable permalink. Any user with access to the shareable permalink can view the shared personal lists – even if the user does not have a WorldCat Discovery account.
A new privacy toggle enables list owners to choose whether a list is "Shared" or "Private" when creating or editing a personal list. When the privacy toggle is set to "Shared," a permalink is generated for other users to view, cite and share that list. The privacy toggle is set to "Private" by default for new and existing personal lists:
The shareable permalink displays on the personal list page and can be quickly copied with the "Copy Link" action:
Anyone who has the shareable permalink can view the personal list content, e-mail it, and cite records in the list. Changes to the list, such as adding new items, are updated in real time after the page is refreshed.
List owners can toggle the privacy setting of their personal lists by changing the list status whenever needed. When a personal list privacy status changes from "Shared" to "Private", the list content becomes automatically inaccessible to anyone with the previously generated shareable permalink.
Advanced Search page search tools expand by default
To match the search results, "Limit your search" text is now "Search Tools" and is expanded by default on the Advanced Search page. An additional "Search" action button is available to ensure the action is always visible to users:
Request feedback when reporting a broken link
Users can choose to request feedback when reporting a broken link in WorldCat Discovery and the A to Z list:
Regardless of the user's request for feedback, all reported broken links are emailed to the address configured for your library in Service Configuration for either WorldCat Discovery or the A to Z List. Emails come from no-reply@e.worldcat.org and can be added to email client whitelists.
If feedback is requested, the subject line of the "Report a Broken Link" email will begin with the text "Follow-Up Requested". If no feedback is requested the subject line will begin with "No Follow-Up Requested"
Please note: An issue where "Item Link" hyperlinks within "Report a Broken Link" emails did not resolve correctly is fixed. These hyperlinks now link staff to the item the user has reported as broken.
View CONTENTdm thumbnails in search results
Users can view digital representations of physical library collections with new OAI compliant repositories added to WorldCat via the Digital Collection Gateway. Thumbnails from CONTENTdm or other OAI compliant repositories display on search results, the detailed search result page, and on Course Reserves.
Level 2 WMS group circulation availability status messages translate
Level 2 WMS group circulation availability status messages translate into all supported WorldCat Discovery languages:
Improved keyboard accessibility on link resolver and A to Z list
Users that depend on keyboard accessibility will now see the basic focus indicators when tabbing through the A to Z list and the link resolver integrated into WorldCat Discovery. The basic indicator is provided automatically by the web browser:
Redesigned Service Configuration Metasearch Content
The Service Configuration -> Metasearch Content -> Default Databases and Licensed Content will soon be updated with improved navigation and usability. When these changes are released later in July, users with access to Service Configuration can choose between two accordions to either configure databases to search or to group configured databases:
Clicking "Configure Databases to Search" opens a tabular view of selected databases from OCLC Licensed Databases, Central Index Databases, or Remote Databases to which your institution subscribes:
Searching by database name will limit the database view to only matching databases, and toggling the checkbox and saving will remove or add the database to the list of selected databases.
Clicking "Group Configured Databases" opens a view to create custom database groups from your institution's selected databases, select a default database or default custom group, and sort multiple custom groups into your preferred order to display in the WorldCat Discovery advanced search screen:
Customize OPAC and/or Local Holding Record Links for proxy users
Institutions using a proxy can choose to add a base URL to Local Holding Records and/or OPAC record links in WorldCat Discovery. Go to Service Configuration -> My WorldCat.org -> Full Text and Open Access Links -> EZproxy:
Cover art displays on mobile detail views
Users will now be able to view thumbnails on mobile detail views in WorldCat Discovery.
New content
This is a list of new databases added to WorldCat Discovery, WorldCat Local and WorldCat.org since our last update.
You can enable these databases as search options in the Licensed Content and Databases module of the OCLC Service Configuration site. Please remember that your library must have a valid subscription to these databases in order to enable them.
Available in WorldCat Discovery and WorldCat Local
From Gale
Biography n Context – Information on newsmakers and historical figures.
Business Insights: Global – For business professionals, entrepreneurs, students, and general researchers, Gale Business Insights: Global delivers comprehensive international business intelligence, compiled into a logical, useable context.
Science in Context – Supporting high school curricula and university coursework.
Student Resources in Context – Information on all core subjects from Science to Literature to History.
U.S. History in Context – Complete overview of U.S. History that covers the most-studied events, issues and current information.
Important links
Support website(s)
Support information for this product and related products can be found at: