WorldCat Discovery release notes, November 2018
Last updated
Release Date: November 15, 2018
Introduction
The following release notes are for the November 15, 2018 release of WorldCat Discovery.
WorldCat Discovery November release highlights
WMS institutions that also subscribe to Talis Aspire Reading Lists can expose reading list links to users on detailed pages.
Include Request ID with problem reports
When reporting an issue with WorldCat Discovery, it is extremely helpful to include the Request ID. The Request ID is found at the bottom of the screen on which the issue occurred. Including this information allows us to directly trace what happened on the request we are troubleshooting.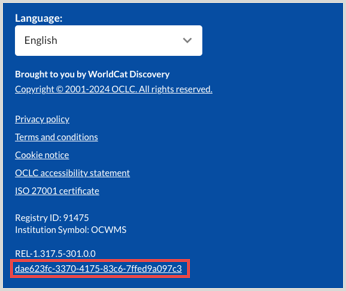 New features and enhancements
Talis Aspire Reading Lists Integration
Talis Aspire is a reading list management solution popular with UK/Ireland and academic institutions in Australia and New Zealand. WMS institutions using WorldCat Discovery that also have a subscription to Talis Aspire Reading Lists can link an item in WorldCat Discovery with corresponding reading lists in Talis.
To enable the integration, login to Service Configuration -> Third-Party Integrations -> Talis Aspire Reading Lists and configure the "Display Talis Aspire Reading Lists WMS/WorldCat Discovery" on. Then enter the Talis "shortcode" for your institution:
The display name of Talis lists can be configured to either "Reading Lists" or "Resource Lists":
When an item is linked with at least one reading list in Talis, the item in WorldCat Discovery displays within a section named "Reading Lists" (or "Resource Lists") on the detailed page. The section includes up to three reading lists in Talis and navigates the user to the corresponding list in Talis in a new browser tab:
When an item is linked with 3 or more lists, the detailed page also displays a new accordion named "Reading Lists" (or "Resource Lists"):
Bug Fixes
Keyword phrase searches prevent inaccurate journal titles from surfacing in WorldCat Discovery
Users would previously see some incorrect journal titles returned on items that contained some, but not always all, of the words from the journal title. Journal titles are now sent as exact keyword phrase searches (using quotations) to the WorldCat knowledge base, which prevents inexact links from surfacing.
Availability stability improvement
When processing availability for some items with at least one author field that only contained a last name without punctuation, availability did not display on brief results. This has been corrected.
Please report any problems with availability to OCLC Customer Support (U.S.) at support@oclc.org, or 800-848-5800, or +1-614-793-8682, or click here for OCLC Support in your region.
New content
This is a list of new databases added to WorldCat Discovery, WorldCat Local, and WorldCat.org since our last update.
You can enable these databases as search options in the Licensed Content and Databases module of the OCLC Service Configuration site. Please remember that your library must have a valid subscription to these databases in order to enable them.
Available in WorldCat Discovery, WorldCat Local, and WorldCat.org
From Kluwer Law
Kluwer Digital Books – Kluwer Law Books.
Kluwer Law Online Journals – Kluwer Law Journals.
Available in WorldCat Discovery and WorldCat Local
From Adam Matthew Digital
Foreign Office Files for Japan, 1919-1952 – FO 262 and FO 371 Files from The National Archives, UK.
Medical Services and Warfare – The history of medicine and disease on the frontlines of North America and Europe during the nineteenth century.
From American Psychological Association
PsycTESTS – A one-of-a-kind resource for measurement and instrumentation tools.
Important links
Support website(s)
Support information for this product and related products can be found at: