WorldCat Discovery release notes, December 2018
Last updated
Release Date: December 11, 2018
Introduction
The following release notes are for the December 11, 2018 release of WorldCat Discovery.
WorldCat Discovery December release highlights
Users can engage with additional open content, act on calls to action in detailed records, and filter and sort editions and formats. Additionally, users can easily interpret simplified authentication prompts when accessing restricted content with new default and configurable text.
Non-WMS institutions can provide sign-in functionality to users for saving personal lists and searches.
Include Request ID with problem reports
When reporting an issue with WorldCat Discovery, it is extremely helpful to include the Request ID. The Request ID is found at the bottom of the screen on which the issue occurred. Including this information allows us to directly trace what happened on the request we are troubleshooting.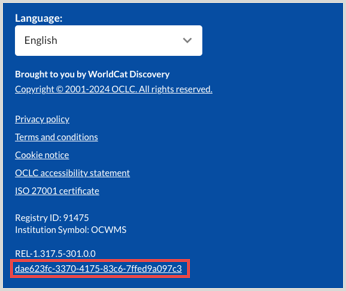 New features and enhancements
Additional databases added to the Open Access filter
OCLC is committed to helping users find and access materials they need to succeed. Part of this commitment is growing our partnerships with Open Access vendors. This release features three new databases added to the WorldCat Discovery central index and the WorldCat Discovery Open Access filter on brief results and advanced search:
PLOS
JSTOR Open Access Books
JSTOR Open Access Journal Collection
Call to action labels on detailed record accordions
Labels on the accordions in WorldCat Discovery detailed record displays are now labeled with "calls to action" that describe the action that can be taken. Label changes are:
| | |
| --- | --- |
| Prior label | Call to action label |
| Description | View Description |
| Editions & Formats | Explore Editions and Formats |
| Availability | Check Availability |
Filter and sort lists of editions and formats
Advanced researchers seeking to answer questions such as "What languages was this work published in?" can now explore all editions and formats with sorting and filtering options in WorldCat Discovery.
On detailed record pages, users can apply the following filters to the editions and formats list:
Library
Format
Year
Language
On detailed record pages, users can apply the following sorts to the editions and formats list:
Library
Date (Most recent)
Date (Least recent)
Editions and Formats information now displays in a table to help users navigate edition content faster, with columns for:
Edition
Format
Year
Language
Library
The renamed section "Explore Editions and Formats" guides users to discover additional available editions and formats:
Publisher information for each edition will be added in an upcoming WorldCat Discovery release. The library scope defaults to Libraries Worldwide in all cases, and changes to this functionality will also be considered.
Configure authentication prompt for restricted content
Configurable authentication prompts now help users understand why authentication is required when searches contain restricted content and what institution-specific action should be taken next.
Add configurable text that will appear to users when a search includes restricted content in OCLC Service Configuration -> WorldCat Discovery and WorldCat Local -> User Interface Options -> Authentication Prompt for Restricted Content:
Configurable text updates the default authentication text to more specifically describe why the user must sign in or what content will be excluded should the user continue as a guest:
New end-user sign-in capability for non-WMS institutions
All WorldCat Discovery libraries can now provide sign-in capability for their users. (Previously, only staff accounts were available for non-WMS libraries.) This logon enables users to save personal lists and to save searches.
To use non-WMS logon options, first register your library for end user logon capability, and then work with the OCLC implementation team to activate the feature.
The registration form is available here: https://registration.oclc.org/reg/?pc=WCD_logon
Institutions can choose from the following two implementation options:
Create new accounts with an OCLC method that supports self-creation of authenticated accounts.
Use existing accounts with an OCLC link to your institution's existing authentication service, if it is compatible. Please register to learn more about compatible authentication services.
Please note: These new logon options are not available to Group Catalogs using WorldCat Discovery.
Bug Fixes
Search box generator shows all institution branches
The search box generator now displays all branches for all libraries with branches configured:
Search box generator use with Internet Explorer 11
The Search Box Generator code now works with IE11.
WMS Circulation statuses containing "due" translate into all supported languages
When an item is checked out, the circulation status that displays on brief results, detail pages, and course reserves that contains the word "Due" will now translate into all supported languages.
New content
This is a list of new databases added to WorldCat Discovery, WorldCat Local and WorldCat.org since our last update.
You can enable these databases as search options in the Licensed Content and Databases module of the OCLC Service Configuration site. Please remember that your library must have a valid subscription to these databases in order to enable them.
Available in WorldCat Discovery, WorldCat Local, and WorldCat.org
From Bloomsbury Publishing
Bloomsbury Applied Visual Arts- Covers a diverse range of fields including design and illustration, fashion and textiles, architecture and interiors, film and media, marketing and advertising, and photography.
Bloomsbury Architecture Library- Provides access to a curated collection including Sir Banister Fletcher's Global History of Architecture along with other scholarly eBooks on architecture, architectural history, theory, design, urbanism, landscape, and interiors.
Bloomsbury Cultural History- The Cultural Histories series presents an authoritative survey of history on a wide range of subjects from ancient times to present day.
Bloomsbury Design Library- Provides global coverage of the history, theory, and practice of crafts and design, from prehistoric times to the present day.
Bloomsbury Encyclopedia of Philosophers- Features thousands of critical biographical entries on individuals who have contributed to the history of thought and philosophy.
Bloomsbury Food Library- Provides an extensive collection of food-related studies content for students, researchers, and scholars.
Bloomsbury Popular Music- Provides an in-depth analysis of modern popular music from the early 20thcentury to present day in a global context.
Screen Studies- Presents a dynamic digital platform offering a broad range of content from Bloomsbury and Faber & Faber to support image studies.
From Electrochemical Society
Electrochemical Society Journals– The Electrochemical Society Journals.
From Public Library of Science
Public Library of Science– PLOS (Public Library of Science) is a nonprofit Open Access publisher, innovator and advocacy organization dedicated to accelerating progress in science and medicine by leading a transformation in research communication. The PLOS suite of journals contains rigorously peer-reviewed Open Access research articles from all areas of science and medicine, together with expert commentary and analysis.
Available in WorldCat Discovery and WorldCat Local
From Adam Matthew Digital
Age of Exploration– Explore five centuries of journeys across the globe, scientific discovery, the expansion of European colonialism, conflict over territories and trade routes, and race to map and conquer new dominions.
J. Walter Thompson: Advertising America– Documents one of the world's oldest, largest and most innovative advertising agencies and is essential for anyone interested in the enormous social, cultural, and historical impact of advertising and marketing.
Service Newspapers of World War Two– Contains an extensive range of both rare and well-known wartime publications for soldiers service in major theatres around the world. Publications are included from many key nations involved in the conflict, such as the US, Canada, New Zealand, India, and the countries of Europe, Africa, and the Middle East. Both Allied and Axis publications are presented, offering a broad view of the war and the experiences of those on its front lines.
From Gale
Research in Context– Created specifically for middle students, Research in Context combines the best of Gale's reference content with age-appropriate videos, newspapers, magazines, primary sources, and much more.
World History in Context– Complete overview of World History that covers the most-studied events, issues and current information.
Important links
Support website(s)
Support information for this product and related products can be found at: