Direct linking and article clustering
Last updated
How do direct links work?
Direct links work by identifying the representative record available from other database providers. When those records are available, WorldCat Discovery sends accession numbers from the 035 field for all providers in the article cluster to the knowledge base. The knowledge base uses this information to build direct links to the article using the accession number to each provider. When present in the knowledge base link built in WorldCat Discovery, the accession number will reside in the rft field &itemnum=xxx. The accession number acts as the unique address to a specific item on a specific vendor's platform. A direct link is built using metadata, including a provider's accession number, in a provider specific link formula provided by the knowledge base. End users can copy the URL for a knowledge base link in a word or text document to see if an accession number is available to be used to build a knowledge base link. They can then look at the list of Knowledge base providers with direct article linking to determine if the knowledge base link is using direct linking to resolve the item.
What is article clustering?
Article clustering groups citations from database providers you have enabled from the Central Index to provide users one result. Groups are determined based on ISSN, volume, issue, page number, date1, title and authors. You can tell if an article is clustered by looking in the View Description accordion of a detailed record in WorldCat Discovery to see if there is an Other Databases section. If there are providers listed in the Other Databases section, the article is clustered. The provider names in this section are hyperlinked to allow navigation to the citation provided by these other providers in the WorldCat Discovery interface. By clicking on these links or limiting your search to one database, you can view the unclustered search results.
Note: Article clustering only appears in your WorldCat Discovery interface when you have a subscription to and have enabled databases that support Direct Linking. For a complete list of supporting providers, see Knowledge base providers with direct article linking.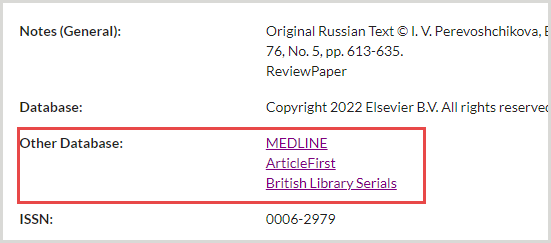 How are direct linking and article clustering related?
Direct linking and article clustering are two separate functions. However, each enhances the other. Accession numbers are used to create direct links and are pulled from the cluster of articles. Accession numbers are acquired from all articles in a cluster of database citations that your institution can access. Accession numbers are not visible to the end user, but staff can sign in to in to WorldCat Discovery and find the accession number via the MARC record view of the citation.